Serving sandwiches by themselves may not seem like enough food for a family dinner or when hosting a get together.
 So you may want to make a delicious side dish to go with your Philly cheese steak.
Good news is you have quite a few options to choose from. Ones that will go very well with the flavor of a Philly cheese steak.
Here is my list of 10 side dishes to serve with Philly cheese steak sandwiches.
Alternatively we came up with Healthy Side Dishes For Philly Cheese Steaks in your interested.
What Side Dishes Go With Philly Cheese steak?
Philly cheese steak sandwiches alone are very filling. So you shouldn't have to worry about making multiple side dishes.
Really the best side dishes or simply sides to go with a good Philly. Are usually deep-fried appetizer like food including french fries or onion rings.
Think of the Philly cheese steak sandwich like serving hamburgers. Some versions in Philadelphia themselves are very similar to a cheeseburger. both of them could be labeled a fast food.
So you don't need to make your serve anything fancy or really extravagant. the sandwich alone is not only filling but has a lot of flavor.
There is also multiple ways to make a good philly cheese steak that can include a variety of toppings
That is why simple fries or even potato chips go really well with a Philly cheese steak.
On a side note:
What's kind of funny is that the term Philly cheese steak. Is also used for a particular type of topping or version of something. Like Philly cheese steak pizza for example, anyways…
So let's get to the fun part and go over my list of 10 side dishes to serve with Philly cheese steak sandwiches.
Then as an extra bonus I will include an alternative to a side dish or something additional you can do with your sandwiches.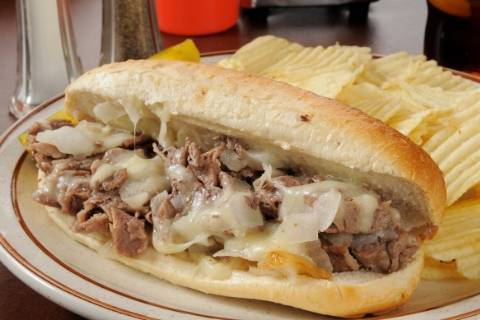 1. Fries
Probably the most common side dish served with Philly cheese steaks. So naturally it is listed as number one.
Fries and cheese steaks go hand in hand like they do with hamburgers. So most restaurants even the most famous ones will serve fries with their sandwiches.
You can use any variety of fry like standard cut steak fries potato wedges curly fries.
If you if you want to get a little more creative you may consider cheese fries garlic fries or even sweet potato.
one thing I might do is make Philly cheese steak fries themselves. Which would include the meat and cheese in the fries.
Also known as Philly fries or loaded French fries.
this might take away from the sandwich, but if you have extra meat could make it a good appetizer.
2. Onion Rings
Another great side to go with your Philly cheesesteak sandwich. There really is no rule for onion rings. You can bake some or deep fry them. 
Make them homemade or buy some frozen ones. 
Any type of onion ring will go good with the Philly cheese steak sandwich.
I wouldn't make onion rings and french fries together. Instead focus on one and make them the best you can.
3. Nachos
Nachos not only make a good side dish but you can use them as an appetizer beforehand.
The good thing about nachos is you can use some complementary toppings. To go well with your Philly cheese steak.
Again if you have additional meat left over from the sandwiches. Along with some of the same toppings you could add these to the nachos.
Basically making the whole meal of a with Philly cheesesteak twist.
3. Salad
Salad is a good side because well it goes good withl almost anything. Also a salad makes up for the fiber that doesn't exist in an overall meaty and cheesy sandwich.
But that's besides the point, because you're not making the cheese steak sandwich to be healthy. 
5. Coleslaw
Coleslaw is not a stranger to being a side dish with Philly cheese steaks. 
The vinegar in coleslaw actually offers a good contrast to a Philly sandwich.
Good thing about coleslaw is you don't have to cook it. It can be served at any time it doesn't need to be kept warm.
6. Chips
Yes chips just plain potato chips. salty and crunchy they go good with a warm Philly cheese steak. 
He was regular or wavy potato chips of any brand. You can even serve them in smaller individual bags.
These are great cuz you don't have to make more cook them. They work also for an outdoor picnic.
Easiest way to just dump a bunch in a bowl and serve them at the same time as your cheesesteaks.
7. Mozzarella Sticks
Another deep fried or baked option. Mozzarella sticks can complement a good Philly cheese steak.
If you got the time you could make homemade ones or buy frozen. I wouldn't worry about serving them with a dipping sauce.
Such as marinara has it doesn't really complement the cheese steak. But I doubt anyone will complain.
8. Mushrooms
I added mushrooms on the list cuz they are sometimes an additional topping to a cheese steak sandwich.
You can do fried mushrooms or sauteed.I think the best type would be a Portobello mushroom. 
Fried mushrooms are usually deep fried had topped with spices.
just be aware that not a lot of people like mushrooms.
9. Potato Salad
Potato salad is another option to consider. A simple potato salad recipe can be made in under 40 minutes.
The other great thing about potato salad is that is typically served cold or chilled. 
So you could make it ahead of time and have it ready well ahead of the meal. Then you don't have to worry about whether it's going to be as fresh.
10. Blooming Onion
I saved this one for last because maybe the best idea. 
 blooming onion will sure surprise your guest or family. Although you may have to watch some cooking videos or find a good recipe to follow.
Especially if you never made blooming onion before.
You can either deep fry bloomin' onion or bacon in the oven.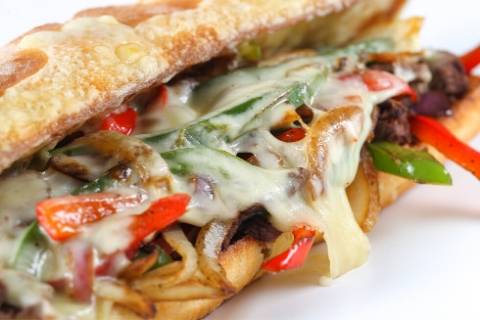 Alternative Idea
The bonus idea I will give is instead of serving a side dish. simply provide extra condiments or additional toppings for your Philly cheese steaks.
That way your guest or family can almost customize their own sandwich.
Toppings you might include that you haven't already used might be. Pickles, banana peppers, sauteed mushrooms, caramelized onions, sweet or spicy peppers and lettuce.
Additional sauces which could be used include, hot sauce, steak sauce, ketchup or mayonnaise.