Italian sausage is a spicy protein that can turn out wonderfully juicy and always pairs well with peppers and onions. If you're having a hard time coming up with creative sides for Italian sausage, keep reading to find some inspiration. You don't need many ingredients to make this first side, check it out.
Before you get to making a side dish for your Italian sausage meal. You might want to check this out.
What Is A Good Side Dish With Italian Sausage?
Here are 5 side dishes you can make and serve with Italian sausages.
Creamy Parmesan Cheese Polenta
Angel Hair Pasta Salad
Pesto Pasta and Potatoes
Caprese Asparagus
Pesto Pasta and Potatoes
All of these recipes are simple to make at home and don't require a ton of prep work or complicated ingredients. Bon appetit!
1.Creamy Parmesan Cheese Polenta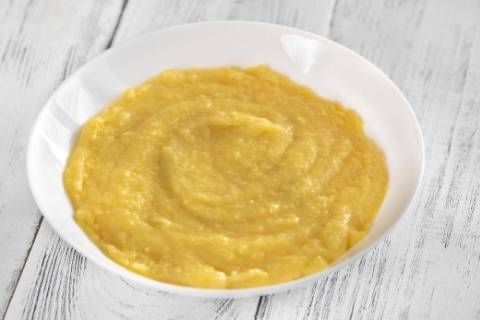 You will need:
Water
Milk
Salt
Coarse or medium-grind cornmeal
Butter
Parmesan cheese
Measure out 4 cups of water and 1 cup of milk and bring to a boil in a heavy duty saucepan. Stir in 1 ½ teaspoons of salt. Use a whisk to gradually whisk in 1 cup of cornmeal into the pan.
Turn down the heat to a very low simmer and cover with a lid. Continue to cook the polenta for 25 to 30 minutes until it becomes thick and fluffy. You can tell it is ready when it starts to pull away from the sides of the pan.
Stir occasionally during the time it's cooking so that it doesn't stick to the bottom of the pan.
After it's done, remove from the heat and stir in 3 tablespoons of butter and a ½ cup of parmesan cheese. Add additional salt too if necessary. Serve this side warm alongside your favorite Italian sausages.
If you want a variation of this recipe, you can substitute a broth for the water to add a richer flavor to the dish. Also, you can make individual polenta cakes if you need to feed a lot of people.
Just spread the hot polenta onto a sheet pan and leave it in the refrigerator to firm up. Use a cookie cutter to chop out your polenta cakes then pan fry them with a little olive oil until both sides are brown.
This side is easy to make and is easy on your wallet, which is a huge plus. If polenta is not your thing, don't worry, because here is another option.
2. Angel Hair Pasta Salad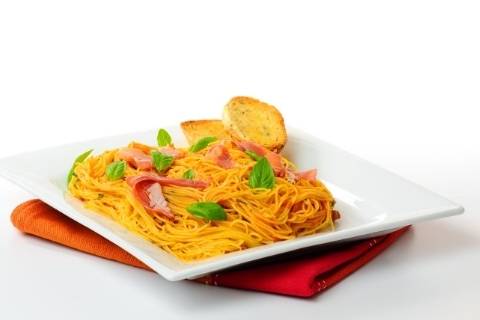 You will need:
Angel hair pasta
Salami
Black olives
Red and green bell peppers
Mini mozzarella balls, halved
Olive oil
Juice from one lemon
Salt
Crushed red pepper flakes
Bring a large pot to boil with some salt. Cook angel hair pasta until al dente (about 3 minutes). Drain the noodles and transfer to a serving bowl. Chop ½ cup each of olives, red peppers, green peppers, and mozzarella balls.
Chop ½ pound of salami and add that plus all the veggies and cheese to the pasta. Whisk together ¼ cup of olive oil, lemon juice, 1 teaspoon of salt and ¼ teaspoon of crushed red pepper flakes and drizzle onto pasta.
Mix all ingredients together and serve. 
Pasta salad takes a little bit of prep work, but it is a nice little side dish that also goes well with Italian sausages.
This third recipe is a refreshing twist that combines sauteed vegetables with a traditional salad.
3. Saute of Summer Salad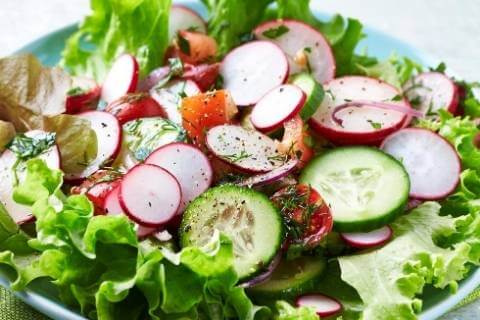 You will need:
Olive oil
Red onion
2 cucumbers peeled and seeded
1 bunch of thinly sliced radishes
2 tomatoes seeded and diced
Romaine lettuce
Tarragon or white wine vinegar
Salt and pepper
Heat olive oil in a pan and add ¼ cup of finely diced red onions. Cook for 2 or 3 minutes until tender. Cut cucumbers into ½ inch moons and add those and the sliced radishes to the onions for about a minute.
Add in the tomatoes and 2 cups of sliced lettuce and saute until the lettuce is slightly wilted. Remove from heat and add 2 teaspoons of tarragon or white wine vinegar and salt and pepper to taste.
This is an interesting take on a cold salad that doesn't require too much cooking. Be sure to watch your food so that it doesn't overcook and get soggy in the process.
Now, get ready for some good flavors in this next side dish.
4. Caprese Asparagus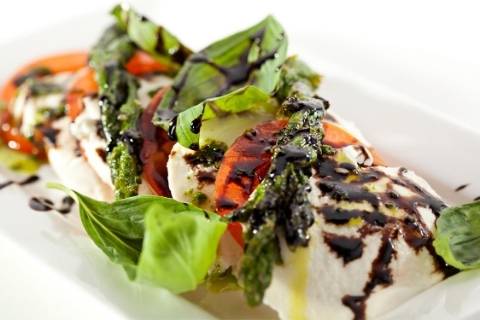 You will need:
1 lb. asparagus
Olive oil
Salt and pepper
Mozzarella cheese, shredded
Cherry tomatoes, halved
Balsamic vinegar
Honey
Fresh basil (garnish)
Preheat your oven to 425 degrees Fahrenheit. Trim off the stalks on the asparagus and toss them with some olive oil, salt, and pepper on a sheet pan.
Push the asparagus to one side of the pan and sprinkle 2 cups of mozzarella on top. Toss together 2 cups of cherry tomatoes with some olive oil, salt and pepper and put on the other side of the sheet pan.
After the oven is preheated, bake for about 20 minutes until the asparagus is tender and the cheese is melted.
While the vegetables are cooking, make the balsamic glaze. In a small saucepan, mix together ½ cup of balsamic vinegar with ¼ cup of honey. Simmer until it is reduced by half, stirring occasionally.
It should be done after about 15 minutes, test it by seeing if the glaze coats the back of a spoon then let it cool slightly.
Transfer the cooked cheesy asparagus to a platter and add the tomatoes on top, then drizzle with the balsamic glaze and garnish with fresh basil.
This side is a delicious way to add flavor to your roasted vegetables.
If that still doesn't satisfy your taste buds, here's the last side dish you can try. It's a unique recipe that many of you may not have heard of before.
5. Pesto Pasta and Potatoes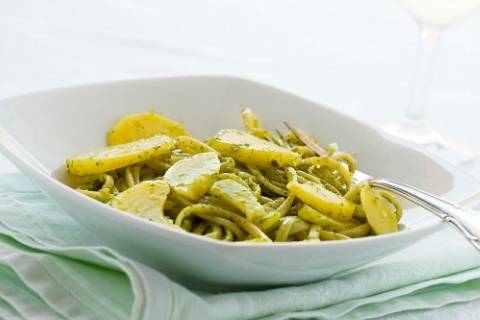 You will need:
Small red potatoes, halved
Spiral pasta
Fresh or frozen green beans
Prepared pesto
Fresh parmesan cheese
Place 1 ½ pounds of potatoes in a large saucepan and add water to cover them. Bring to a boil then reduce the heat and cook the potatoes uncovered for about 10 minutes until fork tender.
Drain and transfer potatoes to a large bowl. 
Meanwhile, bring a pot of water to boil. Cook 12 ounces of pasta according to package directions and add 3 cups of green beans for the last 5 minutes of cooking.
Reserve ¾ cups of the pasta water and drain the rest of it. Add a jar (6 ½ oz) of pesto to the potatoes and add in some pasta water to moisten the potatoes a bit.
Mix in the pasta and green beans along with 1 cup of parmesan add a little salt and pepper if desired, serve warm.
Cooking Italian Sausage (related)
Grilling Italian sausages while avoiding splitting can be tricky. Splitting is where the sausage casing tears open. I wrote about how to cook sausages without splitting here.