Are you looking to replace your worn out baking sheets or maybe purchase your first ones? You know that if you plan to use them often, you want some that will hold up and last for years. The solution is to get the best quality baking sheets that won't rust or warp.
Nordic Ware Natural Aluminum Commercial Baking Sheets are the best quality brand for baking sheets. They come in a variety of sizes, are made of pure aluminum which won't rust, and the rims are reinforced with steel to prevent warping. You can bake with them at temperatures up to 450 degrees F.
Baking sheets will get used in the kitchen more often than we may realize. So quality is important and many companies out there put a lot into making really great bake ware. Let's go over some different brands of baking/cookie sheets to use, along with a few helpful tips for maintaining your baking sheets.
What To Know First
The most important thing to know before buying baking sheets. Is to make sure they will fit in your oven. Both of these recommended brands are half size and should fit in most home ovens.
Another is to know about the color of the pan and how it affects baking. Darker color pans heat faster and can cook foods quicker. Which can be good but also its easier to burn or dry out certain foods.
Lighter color pans such as shiny aluminum will conduct heat equally throughout the pan, but you can have a harder time browning certain foods.
The thicker the pan the less likely it is to warp. Again because of how they heat up more evenly than thinner sheets.
Vollrath Wear-Ever Half-Size Sheet Pans
Vollrath is a US based manufacturing company that makes steel and aluminum based cookware and equipment. Some of the small wares they make include baking sheets.
This brand along with Nordic are standard in many commercial kitchens. So we know they are very high quality, as they are not used lightly in these kitchens.
Don't worry about size though because you can still buy them in half sheet, which will fit in your home oven. Even though they are commercial grade, you can find them on Amazon, but also restaurant supply stores should carry this brand as well.
If you are interested in ordering one online, check out my recommended Vollrath half size baking sheet on Amazon.
Nordic Ware Natural Aluminum Commercial Baking Sheets
These Nordic baking sheets are another "commercial" quality bake ware. Not only are they highly rust resistant these ones also are less prone to warping.
The reason they hold up so well is because of the aluminum (rust resistant) and steel (more strength) blend.
Aluminum also heats up more evenly than other metals. Uneven heating is one cause of warping.
Nordic Ware is a American cookware company so every product is solely made in the USA. They have been manufacturing their products in Minnesota for over 70 years.
Both these baking pans are easy to care for and clean, although they shouldn't be used in a dishwasher. As certain detergents can cause discoloration in the aluminum.
Nordic ware baking sheets are some of the best baking pans you will find. The quality is good enough for commercial use and they are really affordable.
I recommend these Nordic Ware half sheets on Amazon for the best deal.
Nordic vs Vollrath
Here is a table comparing the two baking sheets. Since they are both very similar, its good to know the slight differences which will impact performance.
| | |
| --- | --- |
| Nordic | Vollrath |
| Gauge: 20 | Gauge: 13 |
| Material: Aluminum | Material: Aluminum |
| Weight: 1.65 pounds | Weight: 1 pound |
| Rim: Closed Bead | Rim: Open Bead |
| Rustproof: Yes | Rustproof: Yes |
| Warp Resistance: Stronger | Warp Resistance: Less Strong |
The rims between each baking sheet is one striking difference. Closed bead (Nordic) is going to be slightly stronger than the open bead (Vollrath). Which means it can hold up better to higher heat and not warp as easily.
The good thing about the Nordic closed bead is that it is fully encapsulated. Meaning the rim is fully sealed off, no food or water can get trapped inside leading to rust.
Many baking sheets may have this closed bead rim, which is light taking the metal and rolling it back to create a thicker rim, but when its not encapsulated it leaves a slight gap for stuff to get inside.
Why are My Baking Sheets Rusting?
Most likely you baking sheets are rusting because of prolonged exposure to moisture.
If they have any type of coating on them that has since been scratched or peeled off. Then likely those spots are where rust is going to form.
Rust can typically form on rolled edges where water can become trapped, or there are imperfections in the metal.
How Do You Keep Baking Sheets From Rusting?
The best way to prevent damage or rust to baking sheets is wash them by hand. Another great method is to pop them in a warm oven after washing. This will dry the sheets quickly.
If the oven is still warm from baking then that is perfect. Otherwise turn the oven on to 200 degrees. Place baking sheet inside oven right away, by the time the oven has preheated your pan should be completely dry.
Don't use the boiler setting when drying your pan. As it can lead to warping due to the rapid increase in temperatures.
Why are My Cookie Sheets Warping?
The reason most cookie sheets warp is because of the uneven heating that happens in the metal. When one part of the pan heats faster than the others then warping occurs.
Baking sheets with no rim or raised edge tend to warp more easily. As theses rims are often reinforced as with the two brands mentioned.
Unfortunately warping can occur in almost all baking sheets. But good quality sheets will warp but as they cool retain their shape. Also they won't warp as much to begin with.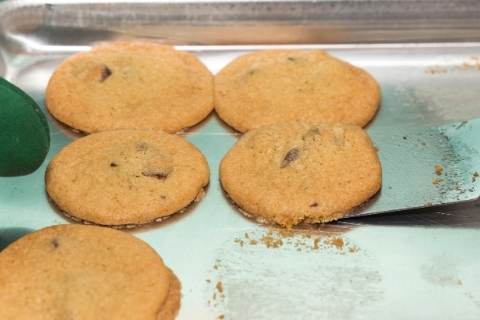 How Do You Keep Baking Sheets from Warping?
You can prevent thin baking sheets from warping by rotating the sheet after a certain period of time cooking. Try rotating the sheet about halfway through the baking process. This way you are allowing for more even heat distribution.
Also avoid extreme temperatures, check if your baking sheet has a maximum temperature limit. Some sheets can have a limit of 500 degrees F while others top out at 350 degrees F.
Broiling on high can reach temperatures above 500 degrees F and can cause baking sheets to warp. So be cautious when broiling food using a baking sheet and is can cause permanent warping.