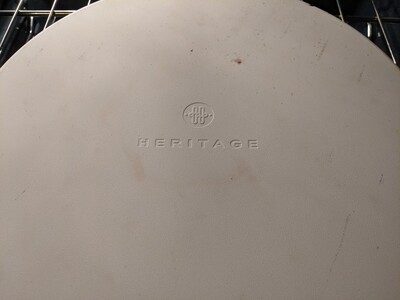 The heritage 15 inch black ceramic pizza stone was a gift I got for Christmas. This is my first pizza stone and so far it has been good.
My personal take on mine so far is that it seems to help the oven retain heat very well. Instead of having to continously maintain the heat by firing up the coils.
The oven takes the same time to preheat but will hold its heat very well. although the company says that the stone preheats faster than others.
The description on the box says to keep the stone in your oven. Which I have done.
Pizzas have turned out fine on the stone, the crust crisps up very nicely. The one issue so far is that I don't have a pizza peel. I suggest getting one when using a pizza stone.
The stone is harder to remove from the oven, especially when its hot. There isn't a lip to grab onto. So overall I give 3.5 stars, below is what I determined to be the good and bad qualities.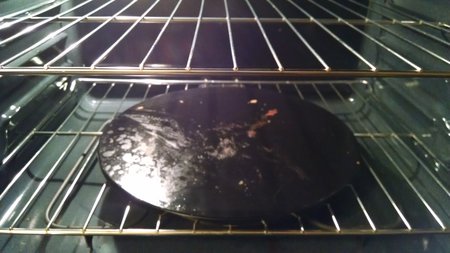 Pro's:
Good brand with sense of humor.
Heats evenly.
Can be used for oven or grill.
Comes with a nice pizza cutter.
Did not require any preconditioning
Black ceramic covering on one side.

Makes cleaning the stone easier and reinforces the stone.
Con's:
Hard to grab and pick up.
Didn't come with much instructions (although its ready to use right out the box). I wish there was more information about it.
Requires a good pizza peel (at least for me)
Seems to be rough on the oven grates when sliding in.
One Year Update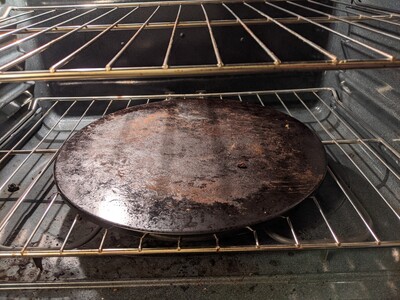 So I have owned this pizza stone now for one year. It has literally sat in my oven the entire time and as you can see its gotten plenty of use. I'm not sure how many actually pizzas I've made using the stone. But if I had to guess its over 50 times.
This includes frozen pizza's, homemade from scratch pizza's, pre-made dough pizza's and even garlic and cheese breads.
I haven't even cleaned the pizza stone one time. Which is something it desperately needs, along with my oven.
Here are some of the updated pro's and con's.
Pro's (One Year Later):
Pizza stone doesn't require regular cleaning.
No cracking.
Oven retains heat.
Cons' (One Year Later):
Wish the stone was a little bigger for cooking two smaller pizza's at once. It barely has enough room. Also it would be nice to have room for cooking bread sticks alongside your pizza.