Pastrami sandwiches have a very distinct flavor profile. It may seem hard to decide what kind of sides can go with this deli sandwich besides potato chips, but we're here to show you some tasty options that are available.
We are sharing our top three homemade sides that have a good contrasting taste to pastrami. Bon appetit!
Creamy Macaroni Salad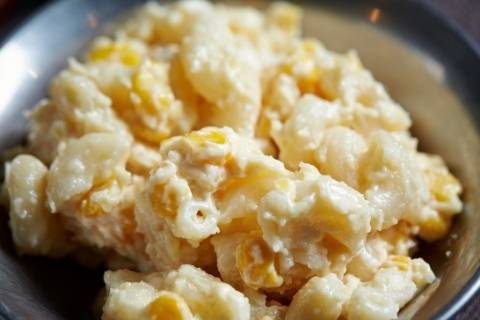 This classic side dish will give you a nice dill flavor and one batch can serve up to 6 people.
What you'll need:
Mayonnaise
Half and half
Mustard
Dill pickle juice
Pickle relish
Fresh dill
Noodles
Cheddar cheese
First, start heating up a pot of water to boil the macaroni pasta. While you're waiting on that, whisk together 1 cup of mayo, with ⅓ cup of half and half in a large bowl.
Next, add 1 Tbsp of mustard, 2 Tbsp dill pickle juice, 3 Tbsp of pickle relish, 1 tsp of freshly minced dill, ½ tsp of salt and ¼ tsp of black pepper and whisk it together.
Pour in a pound of noodles once the water is boiling and cook it according to the package instructions. Drizzle olive oil on the noodles once they are drained to prevent them from sticking together in one clump. Cube up 1 ½ pounds of cheddar cheese to add in.
Once the pasta is cooled, incorporate it until all the sauce is coating the noodles. Add the cubed cheese as well. Everything may look a little runny at first, but the noodles will start to soak in the sauce as it cools. Leave this in the refrigerator for at least an hour before serving.
If you don't want a whole cup of mayo, you can substitute ½ of that cup with plain Greek yogurt instead. To give this salad more color, you may also add in some diced bell peppers.
Apple Feta Tossed Salad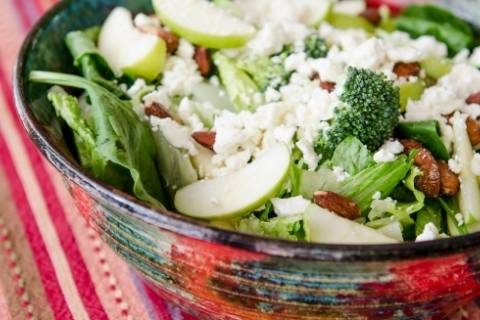 This is a delicious and refreshing salad you can make in bulk or just as an individual portion for your pastrami sandwich.
What you'll need:
Romaine lettuce
Red leaf lettuce
Two apples
Crumbled feta cheese
Walnut halves
Butter
Sugar
For the salad, you will need romaine and red leaf lettuce, a couple of apples (whichever kind you prefer), crumbled feta cheese, and toasted walnuts. If you can't find toasted walnuts at the store, all you have to do is buy walnut halves to make your own. For every cup of walnuts, toss  
them in 2 Tbsp of melted butter, ⅛ tsp of pepper, and 1 Tbsp of sugar. Spread your walnuts on a baking sheet and bake them at 350 degrees Fahrenheit for 15 minutes.
Stir them every 5 minutes to avoid them cooking unevenly. You can substitute the walnuts for candied almonds instead to save on prep time. Wash off your lettuce and tear it into a salad bowl. Next, wash off your apples and chop them into bite sized pieces.
You can make your own vinaigrette to pair with this salad. Get out a blender and add in ⅓ cup of olive oil, 3 Tbsp of white wine vinegar, 1 tsp of Dijon mustard, 2 minced garlic cloves, 2 Tbsp of finely chopped onion, ½ tsp of sugar, ¼ tsp of dried oregano and ⅛ tsp each of salt, dried parsley, and pepper. Add in your apples, cheese, and walnuts to the salad then drizzle the dressing on top and stir it all together.
Sun Dried Tomato and Artichoke Pasta Salad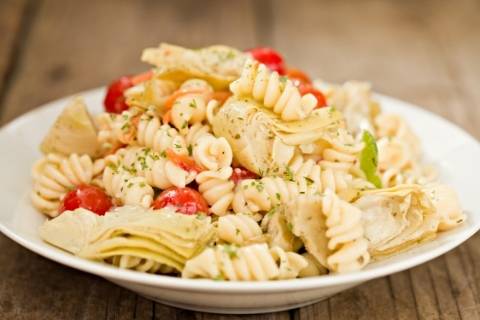 This side gives you a healthy dose of vegetables and tastes almost like an artichoke dip.
What you'll need:
Penne pasta
Plain Greek yogurt
Mayonnaise
Lemon juice
1 clove garlic
Italian seasoning
Artichoke hearts
Fresh spinach
Sun dried tomatoes
Green onions
Parmesan cheese
Begin by heating up a pot of water to boil the penne pasta. While you're waiting on that, mix together the creamy sauce in a big bowl.
You will need ¾ cup of plain Greek yogurt, ⅓ cup of mayo, 2 Tbsp of lemon juice, 1 clove of minced garlic, 1 ½ tsp of Italian seasoning, and a dash of red pepper flakes for 1 pound of cooked pasta.
Once the pasta is cooked, drained, and cooled, add it to the sauce and mix it until all the pasta is coated.
Add two 15 ounce cans of artichoke hearts (drained), 3 cups of chopped fresh spinach, ½ cup of sun dried tomatoes, 2 chopped green onions, ½ cup of freshly grated Parmesan cheese, and salt and pepper to taste. Stir it all together and serve. This will keep in the fridge for up to 2 days.